---
To our Valued Silhouette Partners: 
Please note our Holiday Schedule for 2022 on the right.
Our Vision Sensation Laboratory will be working limited hours, thru the holiday season. Please add a couple extra days in processing if you have a Silhouette Vision Sensation order during this period.
Thank you for your ongoing cooperation.
Have a wonderful Holiday Season!

November 23rd | Office Closing at 4pm EST
November 24th – 25th | Office Closed for Thanksgiving Holiday
December 14th | Office Closing at 4pm EST
December 23rd  & 26th| Office Closed
January 2nd, 2023 | Office Closed
---
To access our latest ophthalmic, sun, and luxury elegance catalogs simply click or tap the following link, select the catalog(s) you would like and accept the terms to download: https://bit.ly/SilhouetteCatalogs

In each catalog, you will find a collection overview page that allows you to click or tap on the collection you would like more information on. This will allow you to effortlessly navigate to a specific collection and model. You can also use the search feature of the PDF reader on any of your devices.
---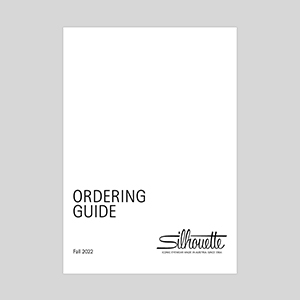 This guide contains all of the information required to quickly and easily customize and order rimless and accent rings collections from Silhouette. It also details all of our available lens shapes, frame colors, and size options to ensure a perfect style and fit. Your Silhouette Account Executive is available to answer any questions you may have.
---
Silhouette is proud to introduce The Silhouette Portal
your resource for all of your product, marketing and technical needs.
Try it. Wear it. Love it.